Cars, cool gadgets, and free licenses for top software for webmasters – this is exactly what the participants of the Everad stream will get. The event is going to be held on June 15, and the organizers will sum up the results of the first stage of contest Formula Everad.

A draw of cars among the top Everad partners has already become a tradition, but this time, due to the quarantine, the organizers are forced to hold the event online. This will allow not only to gather all participants at one virtual table but also to share the festive mood and gifts with the guests!
Yes, you got it right, in addition to the main prize which is a BMW 3 series and gadgets for the top 200 network partners who have participated in the race for leads for 4 months, the organizers have prepared cool gifts for all the audience!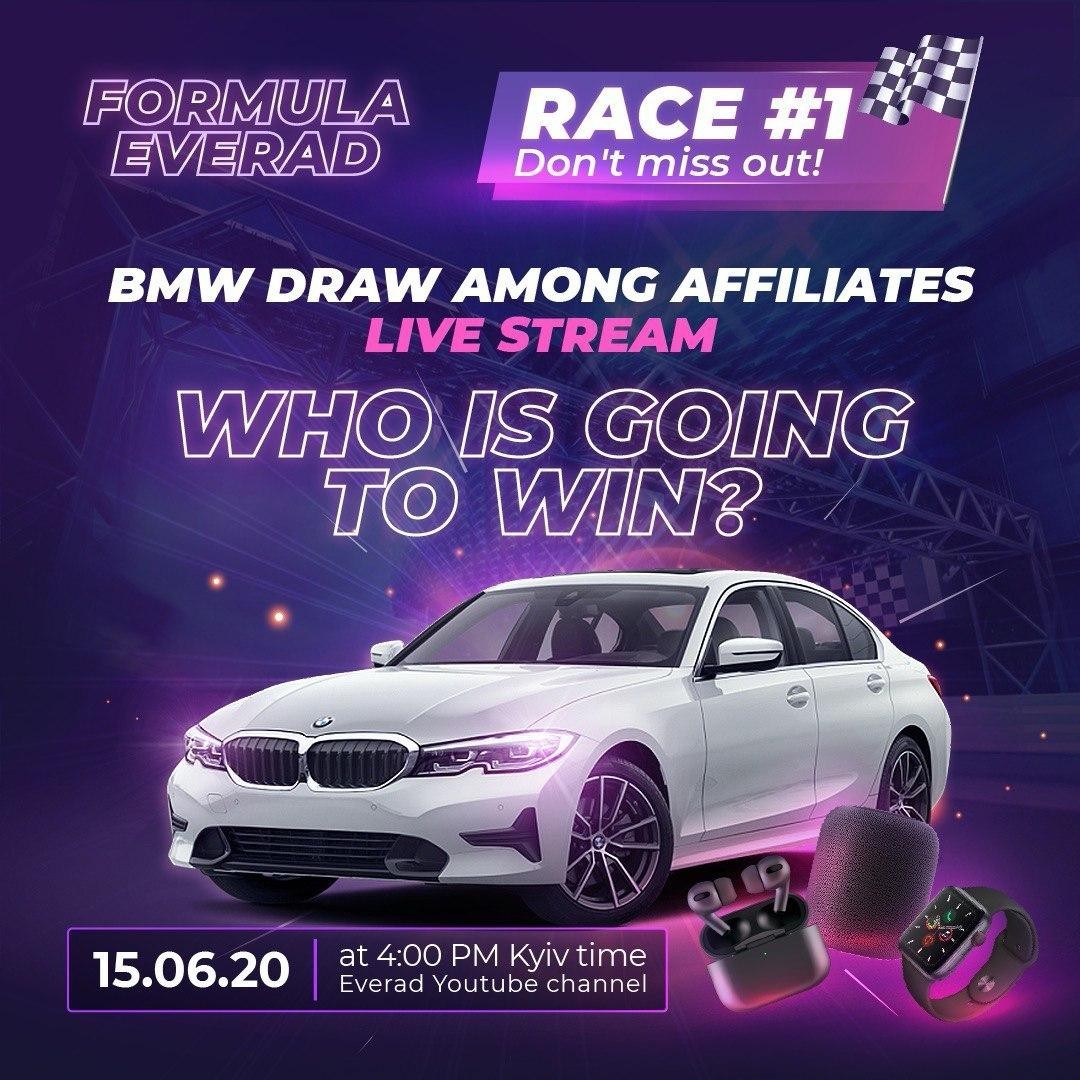 Connect to the live broadcast on the Everad channel on June 15 at 16: 00 and get an opportunity to win:
GoPro Hero 7
iPad from adPartner
Lifetime IM Klo license
An annual PRO subscription in Adsbridge
PRO subscription for 6 months in Keitaro
3-month subscription to Advancets
2-month license in Binom
$100 to the balance in RichAds and +10% to the deposit of each
500 Evers as a starting capital for participation in the second race of Formula Everad!
And who knows, perhaps, some more gifts will be added to the list… After all, the organizers will be in a very festive mood ;)
And most importantly, we will find out live who will be that lucky man that will get a new BMW!
To participate in the competition as a viewer you need to leave your contact details HERE and watch the stream until the end – in the end, we will define the winners and confirm the winning by making a call in Zoom (organizers will send a link to the call to a winner using contact details left by a participant; if a person doesn't respond, the drawing will be done again)
P.S. If you don't have an account in Everad – Sign Up to get your id (it will take a couple of minutes).
Once again: next Monday, June 15, on the Everad channel, you'll have the opportunity not only to have a good time in the company of top players but also to snatch some cool prizes. Subscribe to the channel and switch on the bell notifications so that you don't miss the start of the draw!
Get ready with some strong drinks, festive mood, and all accessories that bring good luck (rabbit's feet, happy socks, whatever). Perhaps you will be one of the winners! See you soon.
Share the article

Read. Learn. Do. Earn more money on Affiliate Marketing
Don't miss